BRAKE SYSTEMS INC. is the exclusive manufacturer and engineers of Blue Ox Exhaust Brakes
Blue Ox is a registered trademark for exhaust brake retarders engineered and manufactured in PDX since the 1950's. BSI fully acquired the line in 2001 and have designed several new models since then. We at Brake Systems Inc. have a domestic product to meet your requirements from 2 1/2" to 5" exhaust pipe sizes to fit all four stroke diesel engines. We have installation kits to cover several pipe sizes, various control kit options and various operating voltages including 12 and 24 volt. Guillotine and Butterfly types available in several pipe sizes as well as individual parts, see our application tables and catalog for more information or feel free to contact us directly with your questions, orders or for trouble-shooting help!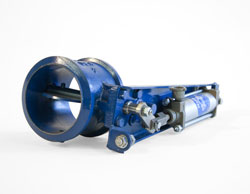 Why an Exhaust Brake?
Increases safety by reducing load on foundation brakes.
Faster Engine warm up.
Improves cold weather operation, reduces thermal stress on intake valves, allows prolonged idling in extreme cold weather.
Aids in shifting of some engine, transmissions combinations. * Increases brake lining life. * Less noise, no additional muffling necessary.
Nodular iron housing.
Stainless shaft and butterfly.
Butterfly design minimizes weight and envelope size.
Guillotine design for heavy duty industrial applications.
Adjustable opening stop allows system tuning to your engine and exhaust system.
Actuating cylinder assembled with hi-temperature components and stainless steel shell.